FaithSing - Christian Music
Daily Prayer
Our Prayer for Today:
Give us the grace, Lord, to overcome our pride, let go of guilt, shame and resentment and open ourselves to the new life of Your Love
Songs:
Don't Reject the Stone

&nbsp

cf. Matthew 21:42, 1 John 4:8, Psalm 118: 22-23, John 15:12, Luke 6:35, Acts 4:11
We Give You Our Lives

&nbsp
cf. Proverbs 23:26, Matthew 11:28, Luke 5:32, Luke 19:10, Jeremiah 29:11, Isaiah 40:29-31, John 14:27, Romans 12:2, Ezekiel 36:26, 1 Corinthians 14:33, Isaiah 61:1
Waiting

&nbsp
cf. Micah 7:7, Isaiah 40:31, Luke 12:36, Isaiah 25:9, Psalm 46:10, Psalm 62:5
Fill Our World Jesus

&nbsp
cf. 1 Peter 2:2, Hebrews 4:12, Ephesians 3:16-19, 1 Corinthians 6:19-20, Philippians 1:11, John 4:13-14
Hidden

&nbsp
cf. Matthew 25:34-40, Matthew 18:20, John 17:22-23, Luke 10:25-37, John 13:1-17
Let's Share the Good News

&nbsp
cf. Mark 16:15 , Matthew 28:19-20, Luke 4:18 / Isaiah 61:1, John 13:1-15, Romans 10:14-15
New Life

&nbsp
cf. 2 Corinthians 5:16-18, Matthew 11:28-30, Ephesians 4:22-24, John 5:24, Matthew 7:13-14, John 3:3, Isaiah 43:19 , Colossians 3:9-12, Romans 12:2
Contrition

&nbsp
cf. 2 Corinthians 7:10, Psalm 50/51:3-6, Luke 18:13, Isaiah 57:14-15
You Carry Me

&nbsp
cf. Luke 12:22-28, Philippians 2:13, Joshua 1:9, Matthew 14:27, Matthew 14:31, Mark 5:36, Isaiah 41:10-13, Psalm 18:2, Romans 8:10-11
From Deep Within

&nbsp
cf. 1 John 4:16, Isaiah 49:1-3, Hebrews 4:12-13, Luke 12:7
What is Love?

&nbsp
cf. 1 Corinthians 13:1-13
Let the Light Shine Out

&nbsp
cf. 2 Corinthians 4:6, Galatians 6:15, 2 Corinthians 5:17, Romans 7:5-6, 1 Corinthians 16:14, 2 Corinthians 6:11-13, Philippians 2:1-4, Colossians 3:14-15
Miracle

&nbsp
cf. Matthew 10:7, Luke 7:11-17, Matthew 5:43-45, 1 Corinthians 15:45, John 1:4, John 10:10
Feed My Lambs

&nbsp
cf. John 21:15-17
We're On Fire (Remix)

&nbsp
cf. Acts 1:8, Hebrews 12:29, Micah 3:8, Matthew 3:11, 1 Cor 2:10
We Will Remember You

&nbsp
cf. Luke 23:42, Lamentations 3:49-50, Lamentations 3:21-22, Jermiah 31:13
In You

&nbsp
cf. Eccl 3:11, Is 52:7, John 1:3-5, John 3:16, John 4:14, John 6:56, John 9:3, Romans 6:11, Romans 8:1, Romans 8:37-38, 1 Corinthians 1:30, 2 Corinthians 5:17, Galatians 3:27-28, Ecclesiastes 3:1
Where's the Love in your Life

&nbsp
cf. 2 Corinthians 1:8-11, 2 Corinthians 4:7-10, 1 John 2:10-11, Luke 7:47, 1 Corinthians 13:1-13, Matthew 13:31-32
Born to Be Free

&nbsp
cf. Galatians 5:1, Galatians 5:13-14, Romans 8:20-21, 2 Corinthians 3:17, 1 Peter 2:16
Love

&nbsp
cf. 1 John 4:16, Deuteronomy 7:9, Romans 5:6-8
Keep Swimming

&nbsp
cf. Matthew 16:24, Isaiah 41:10, Matthew 10:38, John 14:1-31, Matthew 28:20
Open Your Heart

&nbsp
cf. John 13:1-15, 2 Cor. 5:21, Rom. 6:23
Love's Alive

&nbsp
cf. 1 Corinthians 13:1-3, Ecclesiastes 4:9-12, 1 Peter 4:8, Ephesians 4:15
Help Me

&nbsp
cf. Isaiah 49:15-16, Matthew 14:27, Matthew 18:20, Exodus 33:14, John 14:1, Luke 10:27
Somewhere Deep in my Heart

&nbsp
cf. Matthew 10:29-31, John 14:27, John 14:16
God's Love

&nbsp
cf. 1 John 4:7, 1 Timothy 1:5, 1 Corinthians 13:4-13, Romans 12:10, Deuteronomy 7:9, 1 Peter 4:8
Light

&nbsp
cf. Matthew 5:43-48, John 15:7-12, Psalm 136:1-2, Psalm 103:11, John 3:16-21, Micah 7:20
Holy Lord God of Hosts

&nbsp
cf. Psalm 99:9, Isaiah 6:1-3, Revelation 4:8, Revelation 15:4, 1 Samuel 2:2
I Believe

&nbsp
cf. John 1:1-5, 1 John 4:7-9, John 3:12, John 3:21, Matthew 22:36-40, John 20:29, Mark 9:23-25
Lord, Grow Us Some More

&nbsp
cf. 2 Cor 5:17-21, Luke 15:1-7, Luke 15:11-32, John 7:53-8:11, Matthew 19:16-22, John 15:1-11, Luke 19:1-10
Fill Me Up

&nbsp
cf. Matthew 9:36, Matthew 14:14, Matthew 15:32, Mark 1:41, Luke 15:20, Ephesians 4:32
You Send Me Out

&nbsp
cf. Mark 6:7-9, Matthew 10:1-11, Luke 9:2-3
Loving Me

&nbsp
cf. 1 John 4:16-18, 1 John 4:10
I Am the Vine

&nbsp
cf. John 15:1-11, Hosea 14:4-8
The Head Needs a Heart

&nbsp
cf. Romans 12:5, 1 Corinthians 12:12-27
Beneath the Surface

&nbsp
cf. Luke 6:27-36, Matthew 25:31-46
Your Love

&nbsp
cf. John 15:13, 1 John 3:16, 1 John 4:18
Deadwood

&nbsp
cf. Luke 5:32, Luke 13:3, Luke 15:7, Acts 3:19, Matthew 3:1-2, Mark 1:14-15
The Colour Of Jesus

&nbsp
cf. John 7:37-38, 2 Corinthians 2:15-17, Matthew 19:27-29,, Ephesians 2:4-10
Hey Lord (I can't do this without You)

&nbsp
cf. 2 Corinthians 12:7-10, Psalm 62:7, Romans 9:16
Touch

&nbsp
cf. Matthew 17:7, Matthew 20:34, Mark 1:41, Mark 5:27-31, Luke 8:44-47, Luke 22:51
Calm My Storm

&nbsp
cf. Mark 4:35-41, Matthew 8:23-27, Luke 8:22-25
Lord, I Want to Thank You

&nbsp
cf. Luke 2:38, Luke 17:15, Romans 14:6-9, Colossians 1:11-12, Colllosians 2:6-7, Psalm 106:1, 2 Thessalonians 2:13, 1 Chronicles 16:8-12
Holy

&nbsp
cf. Psalm 99:9, Isaiah 6:1-3, Revelation 4:8, Revelation 15:4, Samuel 2:2
Give Us Love

&nbsp
cf. 1 Corinthians 13:1-13, Ephesians 5:2, 1 John 2:9-10, John 13:34-35
Lord, Increase My Faith

&nbsp
cf. Luke 17:5-6, 2 Corinthians 4:7-14
Good News

&nbsp
cf. Mark 16:15, Luke 1:19, Matthew 11:5, Isaiah 52:7, Proverbs 15:30
Glory

&nbsp
cf. Luke 2:13-14, Psalm 86:12, John 17:1, Galations 1:3, Matthew 26:64, Mark 16:19
Holy Spirit (Sequence of Pentecost)

&nbsp
cf. Acts 2:2, Matthew 3:11, Luke 3:16
That World Is Empty

&nbsp
cf. John 17:15, James 4:4, 1 Peter 2:11, 1 John 2:15-16, John 15:19, John 17:14, Luke 4:5
You Are There

&nbsp
cf. Ecclesiastes 3: 11, Romans 1: 20, John 3:8, Acts 17:28, Psalm 104:30
Corpus Christi (We Are the Body of Christ)

&nbsp
cf. Romans 12:5, Corinthians 12:12-27, Rom 12:4-8
Your Kingdom Come

&nbsp
cf. Romans 14:17, Matthew 6:10, Luke 11:2, Matthew 18:1-4
Your Body

&nbsp
cf. John 6:55-58, 1 Cor 11:25-26, 1 Cor 10:16-17
Wood

&nbsp
cf. John 19:17-36, Matthew 27, 39-56, Mark 15:21-39
Waiting For The Spirit

&nbsp
cf. Acts 2, John 14:26, John 15:26
---
Today's Bible Reading
Two of the disciples of Jesus were on their way to a village called Emmaus, seven miles from Jerusalem, and they were talking together about all that had happened. Now as they talked this over, Jesus himself came up and walked by their side; but something prevented them from recognising him. He said to them, 'What matters are you discussing as you walk along?' They stopped short, their faces downcast. Then one of them, called Cleopas, answered him, 'You must be the only person staying in Jerusalem who does not know the things that have been happening there these last few days.' 'What things?' he asked. 'All about Jesus of Nazareth' they answered 'who proved he was a great prophet by the things he said and did in the sight of God and of the whole people; and how our chief priests and our leaders handed him over to be sentenced to death, and had him crucified. Our own hope had been that he would be the one to set Israel free. And this is not all: two whole days have gone by since it all happened; and some women from our group have astounded us: they went to the tomb in the early morning, and when they did not find the body, they came back to tell us they had seen a vision of angels who declared he was alive. Some of our friends went to the tomb and found everything exactly as the women had reported, but of him they saw nothing.' Then he said to them, 'You foolish men! So slow to believe the full message of the prophets! Was it not ordained that the Christ should suffer and so enter into his glory?' Then, starting with Moses and going through all the prophets, he explained to them the passages throughout the scriptures that were about himself. When they drew near to the village to which they were going, he made as if to go on; but they pressed him to stay with them. 'It is nearly evening' they said 'and the day is almost over.' So he went in to stay with them. Now while he was with them at table, he took the bread and said the blessing; then he broke it and handed it to them. And their eyes were opened and they recognised him; but he had vanished from their sight. Then they said to each other, 'Did not our hearts burn within us as he talked to us on the road and explained the scriptures to us?' They set out that instant and returned to Jerusalem. There they found the Eleven assembled together with their companions, who said to them, 'Yes, it is true. The Lord has risen and has appeared to Simon.' Then they told their story of what had happened on the road and how they had recognised him at the breaking of bread.
Luke 24:13-35


---
Reflection
Easter is not about something that happened 2000 years ago, it is about our present and our future. Jesus came to show us the way, and as his followers, we need to follow. That does not mean that we need to literally wash anybody's feet - we all understand the washing of feet as metaphorical, as being about
serving others rather than putting ourselves first, but we are far to inclined to get stuck in literal understandings of the cross and resurrection. Just as we are not called to literally wash feet, we are not called to literally find a temple to throw buyers and sellers out of so that someone will nail us to a cross. Nor are
we required to do nothing, on the assumption that everything needful was done 2000 years ago (i.e. Jesus died on the cross to save us, so we are now saved and can live it up, secure in the knowledge that "he paid for our sins"). Somehow, while we find the washing of feet easy to understand, it seems like
more often than not we don't quite get the meaning of the cross and resurrection.
Christians have been talking about sin for centuries, but we generally focus on the actions involved, the rules, what we should and shouldn't do, rather than anything deeper. That is a surface understanding of sin, an oversimplification. Rules and regulations neatly box things up for us and save us having to think,
analyse or understand anything. Perhaps it is this that blinds us; perhaps our desire for neatness prevents us knowing how to follow Jesus through the cross and resurrection.
Guilt, shame, resentment - we've all felt these things, although we may not have stopped to think about what their effects are. Yet, each of these emotions blocks the flow of the most important thing in our lives - love. The Easter story is about moving past guilt, shame and resentment to reclaim love. Paul talks
about dying with Christ and rising with Him as a new creation; taking off the old and putting on the new - but what does that mean? Paul also uses the metaphor of the body of Christ with each of as its members. So, if the body of Christ dies and rises again to new life, what does that mean?
In approaching our own death, or the death of someone we love, what do we do? We grieve. Grieving is the process of letting go of control and accepting a reality that we don't want. We move from disbelief through waves of mixed emotions, predominantly sadness and anger, with lots of "what ifs" running
through our minds, with the size of the waves gradually getting smaller over time, until we reach a place of acceptance, more or less, in which we have let go of our own will and accepted the reality we face. The emotions we experience may include many others than sadness and anger, including guilt, shame
and resentment.
This grief involves a cleansing, because guilt, shame and resentment block up our systems and prevent the flow of love through the veins of the Body of Christ and also through each of us as members of the Body of Christ. Think of a time when you felt guilty, ashamed or resentful - how truly loving were you able to
be in that moment? Trying to make it up to someone or placate them out of a sense of guilt is not truly loving, because the focus is not on them, but on you. Shame blocks us from the sharing of our beings that is involved in love. Resentment buries our love behind an angry barrier.
Our God is Love and Love forgives, so what is it about sin that necessitates the way of the cross? If the sin is forgiven by God as soon as it happens, then the problem lies in us. Sin lingers on in us in the form of guilt, in the form of shame, in the form of resentment. The way of the cross is about letting go of guilt,
letting go of shame and letting go of resentment. It is about accepting forgiveness and re-embracing Love.
What is it that so often prevents us from letting go of guilt, shame and resentment? At base, it is probably a form of pride. Not that we are proud of our sins, but that we are proud of our autonomy - our independence. Like Adam and Eve in the story of the garden of Eden, we seek the ability to be our own gods. We
see ourselves as too important to be forgiven. Our wrongdoings are greater than those of others, so we must punish ourselves and others for them through our guilt. The "and others" in the last sentence is important, because guilt is often a form of passive aggression. In a sense, the line between guilt and
resentment is a blurred one. I did something wrong to you, but somehow it is your fault because you provoked me to do it and I resent having to cop the blame so I punish you with my guilt. Or I am so ashamed that I hide myself away and can't face you, punishing you by refusing to connect with you. Shame
expresses itself as rejection.
So we need to humble our pride, and crucifixion is symbolic of that humbling, because crucifixion was about as low as person in the Roman Empire could get. It is not that our sins nailed Christ to the cross but that we need to nail our own pride, guilt, shame and resentment to the cross in order to rise in the New Life
of Christ, which is Love. The cross, if you will, is the "statin" that our spiritual veins need in order to clear them of the muck clogging them, so that love can again flow through them. Collectively, we need the cross to enable love to again flow through our community.
Once we let go of the pride that holds us to our guilt, our shame, our resentment, we become able to see again with compassion those around us whom we have hurt and who have hurt us. Opening our eyes and hearts to the spirit of compassion is the way to love and to truth and to God.



---
At FaithSing Christian Music you can:
Download Free Christian Music to use in your liturgy or Praise and Worship.
Listen to mp3 recordings of inspired Christian Music
Read along in the Christian Lyrics as you listen to each great Christian Song
Download Sheet Music for each song, so you can perform it in your own church service, free of charge
Praise Jesus and give thanks to the Lord Our God through the gift of music as you listen, sing along with, or play these inspirational Christian songs
Perform songs yourself using the sheet music, which is free to download, includes guitar chords and melody.
Enjoy Christian Music in a variety of styles including Christian Rock Music and Contemporary Christian Music
Connect with God through the daily prayers, scripture readings and reflections
Receive automatic notification whenever a new song is added to this Christian Music Website, by joining our Mailing List
Contact us if you need music for other instruments, such as flute, clarinet, trumpet, saxaphone or piano, or if you need midi files
Check out our links page for various webrings and connections to other interesting sites
---
Whoever you are, you are welcome here
If you're reading this, presumably you're Christian (if not, you're still most welcome!). You may be an Evangelical Christian, you may be a Roman Catholic, you may be a Southern Baptist, you may be Church of Christ, you may be an Anglican, a Lutheran, Uniting Church, Methodist, Baptist, Congregationalist, Orthodox, Congregational, Uniting Church, United Church, Presbyterian, Alliance, Reformed, Maronite or Malachite. On the other hand, you may be simply a seeker after truth. Whoever you are, you are welcome! Whatever your denomination or creed, we presume you love music and are looking for Christian Music that you can listen to for free, download for free, play for free, without having to worry about royalties. All the music on this site is Royalty-Free, because it is released under a Creative Commons License.

Whatever your denomination or creed, you will find something here that speaks to you, because the songs on this site are thoughtful songs that, as well as giving praise to God, thanking Him and worshipping him, also relate our Christian belief to the struggles of everyday life. We hope that they can help you in your journey and that they can help to bring more people into an intimate and tender relationship with God in and through the person of Jesus Christ.


---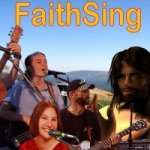 Visit Faithsing on Facebook
---
---
Check out other Christian Music, Worship and Praise Sites via these web rings:-
Navigation by WebRing.
---
Those of you have your own websites may be interested in the following:

Submit your site in the best of internet directory for free! This business is listed under Religion and Spirituality Directory






---